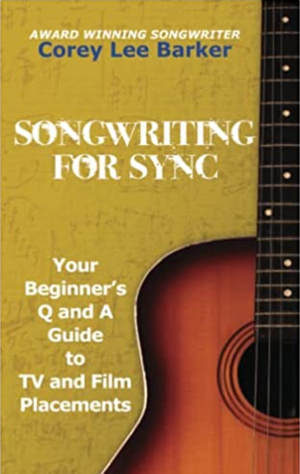 Corey Lee  Barker's new book is out, and he is a great person to learn sync basics from, click here to purchase and check out our mini interview about it below.
What inspired you to write this book Corey? 
I was answering the basic questions over and over in writing sessions, and realized how big of a need there was to spread the basic info about how to deliver music that is clear and free of 17 follow up calls and emails afterwards.  The sync world has more opportunities (and a higher pay rate) than landing cuts on artist albums.  We all want to write smarter and not chase our tails. :)
What are the biggest mistakes you see songwriters and artists make who are trying to break into sync? 
They send blind emails filled with several tracks, not one of which has metadata embedded into the mp3's. If there is no metadata attached, the sync agent or supervisor receiving it simply don't know where to find you or who is responsible for clearing the song. Music Supervisors do not have time to call five publishers and the track owners to see if everyone agrees on a price. It is a one stop shop YES from one person, or they move on to an easier scenario. 
There are so many places to place music these days, what was your first placement? 
My first placement was on Season 5 of SMALLVILLE in 2005. It was extra special considering that was my favorite TV show at the time. It's hard to top that feeling. "If Only I Could" was a song about Clark Kent wanting to tell his secret to Lois Lang but knowing it would put her in danger. Great write with Lucas Hoge and Brent Anderson.